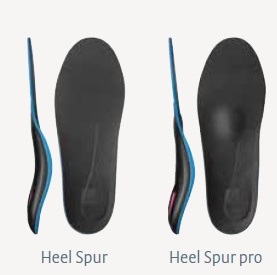 Overview

A heel spur is a hooked bony growth protruding from the calcaneus or heel bone. It often occurs alongside plantar fasciitis, and as such the two conditions are often confused, however they are not the same.

Causes

Everyone can be affected by heel spurs, however, certain groups of people have an increased risk. For example, Plantar Fasciitis is a common running injury. People who walk a lot are much more likely to have heel spurs or people who play golf or play tennis. Over-weight people are also more at risk for heel bone spurs as our feet are not designed to carry around extra weight. As a result the ligaments under the foot are placed under constant stress, which inevitably will lead to foot problems.




Symptoms

Pain and discomfort associated with heel spurs does not occur from the spur itself. The bone growth itself has no feeling. However, as you move, this growth digs into sensitive nerves and tissue along the heel of the foot, resulting in severe pain. Pain can also be generated when pushing off with the toes while walking. Swelling along the heel is also common.

Diagnosis

Sharp pain localized to the heel may be all a doctor needs to understand in order to diagnose the presence of heel spurs. However, you may also be sent to a radiologist for X-rays to confirm the presence of heel spurs.

Non Surgical Treatment

In case of heel spurs rest is most important. Active sports, running, long walks etc should be avoided to start with. If you?re in a job that requires a lot of standing, take a few days off work. Rest (or reduced activity) is essential to allow the inflammation from becoming aggrevated. Furthermore, you can use ice packs (placed on the heel for 5-10 minutes) to ?cool down? the inflamed area. You may take anti-inflammatory medication or apply a topical inflammatory (i.e. a cream) to help reduce inflammation. In addition, there are some simple exercises that should be done daily to help relieve heel spur pain.

Surgical Treatment

Surgery is used a very small percentage of the time. It is usually considered after trying non-surgical treatments for at least a year. Plantar fascia release surgery is use to relax the plantar fascia. This surgery is commonly paired with tarsal tunnel release surgery. Surgery is successful for the majority of people.